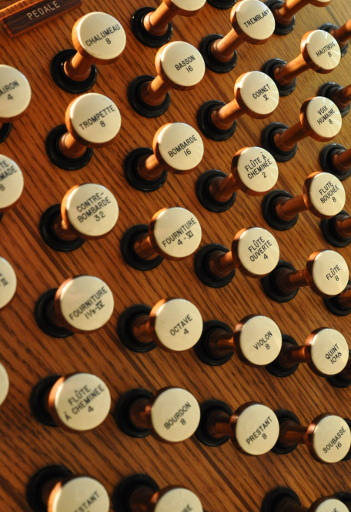 The Robert and Nancy Powell Scholarship and Organ Competition
"Recognizing the Past While Reaching Towards the Future."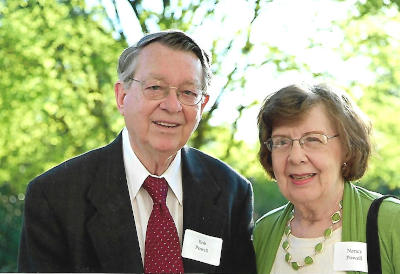 Decades as Leaders – National Recognition
The Greenville Chapter of the American Guild of Organists is pleased to announce the creation of the Powell Scholarship Fund and Organ Competition.
Robert Powell, FAGO, organist and composer of hundreds of choral and organ service pieces of published music, along with his wife, Nancy Powell, AAGO, also a consummate organist, have served the Greenville community for decades as leaders and role models for organists and church musicians of this community. The Powell Scholarship Fund seeks to honor the Powell's legacy by promoting the study of the organ and by encouraging today's organ students to pursue a career as an organist.
National Competition - Local Opportunity to Perform
A $2,500 scholarship will be awarded in June 2023 to an undergraduate student studying organ at an American college, conservatory, or university, in pursuit of a career in organ performance, church music or music education. The winner, to be announced in July 2023, will also be offered an opportunity to travel to Greenville and perform an honorarium recital in one of our Greenville churches for chapter members and the public at a mutually acceptable scheduled date.
The application process includes writing a short essay and submitting a recording of two standard organ pieces (Bach and Romantic/Contemporary). The application can be done online, and deadline is June 1, 2023. The first competition cycle will be made available in January 2023.
The judges for the competition include:
Dr. Ed Dunbar - Retired Professor Organ, Bob Jones University, Greenville, SC
Donald Duncan – Director of Liturgy & Music, Christ Church, Episcopal, Greenville, SC
Rev. Robert Glick - Retired Professor Organ, Erskine University/First Presbyterian Church, Greenwood, SC
Vance Jenkins – Director of Music & Principal Organist, Buncombe Street United Methodist Church, Greenville, SC
Dr. Brennan Szafron – Organist & Choir Master, Holy Cross Episcopal Church, Tryon, NC
Scholarship Kickoff Events – How You Can Help
The Greenville Chapter has already begun funding the Powell Scholarship with some generous contributions from Christ Church, Episcopal where Bob Powell was organist for 35 years, and the Buncombe Street United Methodist Church, Trinity Campus, where Bob was organist for 16 years. For a winner to receive $2,500 towards college tuition, along with national recognition amongst church musicians and an opportunity to play for fellow colleagues is a wonderful milestone for aspiring organists. This also creates a sense of pride at the local level where we get to watch gifted musician and winners' careers grow.
An exciting major public fundraising event for the Powell Scholarship will be a Massed Community Choir Festival featuring all Powell music with organ, instrumentalists, and with core choirs from Christ Church, Episcopal; Buncombe Street United Methodist; and other choirs (being solicited now) in February of 2023. All singers will be welcome to participate in this wonderful event that will include both Bob & Nancy Powell. All organizations and individual contributors to the Powell Scholarship will be acknowledged for this program.
The Powell Scholarship is a 501c3 non-profit program of the Greenville Chapter of the American Guild of Organists. Contribution funds can be made to the Greenville AGO Chapter – Powell Scholarship, and mailed to John Polo, Treasurer, 26 Appian Circle, Simpsonville, SC 29681. Any question can also be sent to John at john.polo@strategicdirectives.com, 203-895-3465.
For additional on Robert and Nancy Powell, see this Member Spotlight.