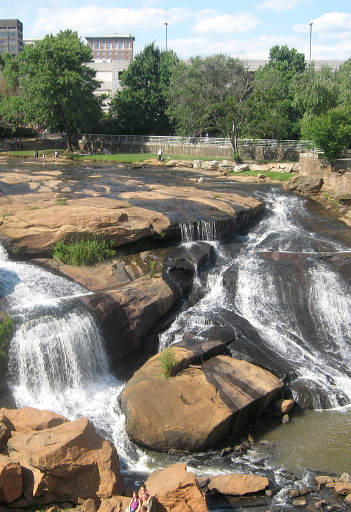 Below is a listing of nearby events which may be of interest to local organists. Please contact info@greenvilleago.org to contribute to the list.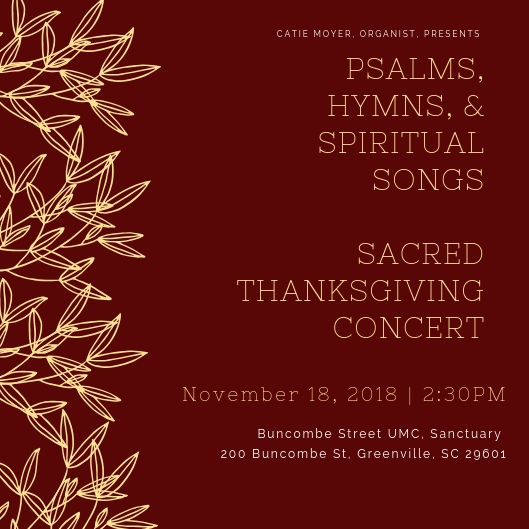 Sunday, November 18, 2018, 2:30pm: Catie Moyer, organist, presents Psalms, Hymns, & Spiritual Songs, a Sacred Thanksgiving Concert, at Buncombe Street UMC; 200 Buncombe Street; Greenville SC 29601.
Herald of Praise
Robert J. Hughes
Praise to the Lord the Almighty
Paul Manz
I'm Troubled
arr. Eugene W. Hancock
Balm in Gilead
arr. Roger C. Wilson
Deep River
arr. Mary Ellen Kerrick
Little Suite on Psalm 37
Psalm 37:3 - Trust in the Lord and do good; so you will live in the land and enjoy security.
Psalm 37:4 - Take delight in the Lord, and He will give you the desires of your heart.
Psalm 37:5-6 - Commit your way to the Lord; trust in him and He will act. He will make your vindication shine like the light, and the justice of your cause like the noonday.
Psalm 37:7 - Be still before the Lord, and wait patiently for Him.
Paul Taylor
Psalm 19, The Heavens Declare
Bendeto Marcello
trans. E. Power Biggs
IV. Songs of Thanksgiving
We Gather Together
arr. Neil Harmon
For the Beauty of the Earth
arr. Neil Harmon
Count your Blessings
Dan Miller
V. Emmanuel - God is with Us
Dearest Children, God is Near You
arr. James C. Kasen
Kum Ba Yah
Someone's Praying, Lord
Someone's Crying, Lord
Someone's Singing, Lord
John A. Behnke
Thursday, December 13, 2018, 7pm: Bach Christmas Oratorio by the SC Bach Choir and Soloists and NC Baroque Orchestra at First Baptist Church; 847 Cleveland St; Greenville, SC 29601.
Friday, December 14, 2018, 7pm: Bach Christmas Oratorio by the SC Bach Choir and Soloists and NC Baroque Orchestra at Rosalind Sallenger Richardson Center for the Arts, Wofford College; 130 Memorial Drive; Spartanburg, SC 29303.
Thursday-Friday, January 24-25, 2019: Furman University Church Music Conference featuring Dr. Bruce Neswick, Canon for Cathedral Music at Trinity Cathedral (Episcopal) in Portland, Oregon. To participate in singing Evensong, register by November 15 ($75).
Tuesday, Feburary 12, 2019, 8pm: Chenault Duo recital, Hartness Organ Series, Daniel Memorial Chapel, Furman University.
Every Thursday 8-9pm: On SC Public Radio, David Kiser hosts On the Keys.
Every Sunday 2pm: On WEPR 90.1 FM, Michael Barone hosts Pipedreams.